Nitrate taken 1933, Paramount Studios
I left virtual flowers on her virtual grave: her passing, over 30 years before I saw any of her films, depressed me. She seemed enshrined in history before doing anything to warrant it; she reminded me at first sight of L'Inconnue de la Seine, a drowned woman remembered for her beautiful death-mask, and her familial ties to 19th century pianist Clara Schumann were an interesting way to place her into my existing historical narrative.
Said narrative had been ground into dust on my first viewing of Mädchen in Uniform, the 1931 lesbian movie, in equal parts Freudian and anti-fascist, in which Wieck played the love interest and gained overseas notoriety. At the time, I found it unbelievable that something made so long ago could be so believable and relatable – that this strange production had been waiting for me for 80 years. I spent hours cataloguing the little coincidences that mapped this film and the people who made it onto my own life. Six months after that first viewing, in an attempt to make the surreal dream she had acted out real, I began to think about collecting pictures of Wieck: my favourite, a 1939 postcard where she looks noble and solemn, still gleams from a shelf in my bedroom in its cellophane casing.
When you learn to associate a single person with the inner reaches of your sexuality and they associate with evil, what does that make you? I explained away the dubious relationship in the film that I loved; how can I possibly start to explain away the poster on my actress's IMDb page, its throwback devil-tailed medieval font, its smiling blonde boy placed before two huge Nazi flags?
As a European Jew, when any member of my family told ancestral stories they always seemed to involve having to pack up and move somewhere else. Our incredibly Jewish 'real' last name was changed to avoid antisemitism somewhere in 19th century Germany; an intolerant attitude within the military services of late Imperial Russia prompted my dad's side to move to South Africa, where apartheid was witnessed, a few generations later, from a place of privilege. My actress moved too, a passage eerily similar to those taken by many German Jewish actors and directors: Berlin to Hollywood, for a contract with Paramount. She was even photographed in a staged afternoon tea with notable Nazi-shunner Marlene Dietrich.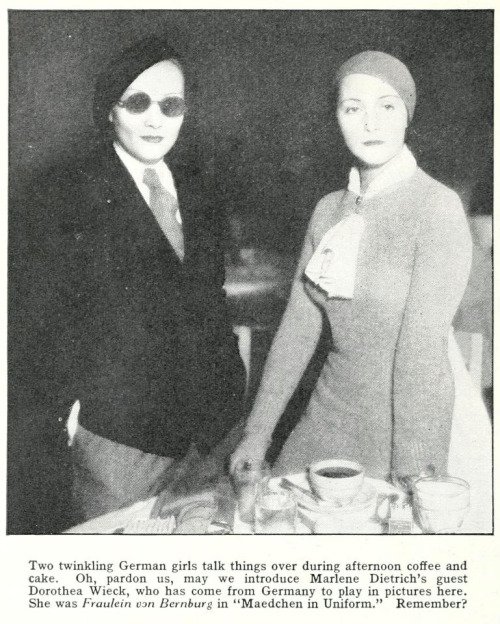 I wish I knew what she really believed – I wish her place in 1931 – starring role in one of the most anti-fascist films ever made, promotion of ideals in direct contrast to those later promoted in Hitler's Germany, surrounded by cast and crew members of Jewish ancestry – was really enough to outshine the film she made a decade later, the reported compliment from the man himself, and the contrast in career to those who refused outright to work with the regime, such as Hertha Thiele. If I know some actors – favourites of Hitler – were bullied into participating in propaganda, can I judge her for appearing in this production?
How will I remember her from now on? She died a long time before I was born – like many other men and women from the very early days of cinema, she is entirely a memory. Sometimes the difference between her two personae just blurs: her softly-shot glances in Leontine Sagan's masterpiece, the scenes I had seen a million times within a year, with her smiling, ghostly appearance next to a man in Nazi uniform. It has been and always will be impossible to conceive that someone who made me feel so accepted could be chosen and transplanted, ten years later, into such a villainous world.
I think it is essential to explore the media enjoyed by the generations before our own. My interest in film from this period has brought me closer than I ever thought I would be to a history that barely seemed real when taught in school. But it has also brought me closer to the intense pain and disruption experienced by those vilified under the Nazi regime – I am surely not the first one to experience this distress at a beloved actor or actress suddenly turning on a group I belong to. Even nearly eighty years later, I am hurt by this participation and the ambiguosity surrounding it. I will not be the last one to be hurt.